Decorated simply, with quality cotton bedding, blankets and all the facilities our accommodations make your stay comfortable, pleasant and memorable
Discover our wooden cottages
---
For your comfort we have newly constructed wooden cabins featuring large windows, which means lots of air and light, and fans inside as well as on the veranda.
Decorated simply, with quality cotton bedding, blankets and all the facilities to make your stay comfortable, pleasant and memorable.
​Room options are three-bed sharing, twin, or private occupancy. So whether you are planning on bringing a friend or prefer your privacy, all possibilities and budgets are catered for.
We also have a communal relaxation space, located on the other side of a small stream on our property, a place to eat, talk, read or just sit and enjoy some time for you.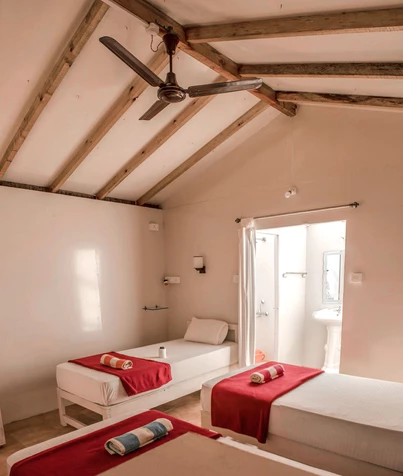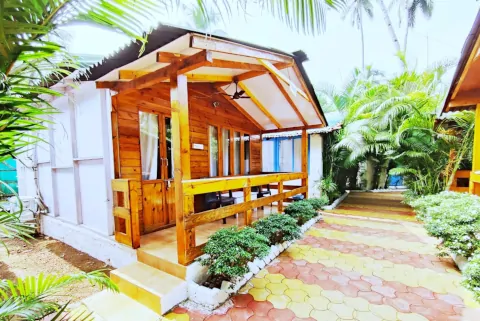 Sleep enhancing & soul nourishing, our dorms offer comfy beds for friendly prices.
Wide and tranquil space to put both the body and mind to rest.
Enjoy a good night's sleep with your yogi friend or partner.
Share your yoga practice and your dreams with two friends or fellow practitioners, and it's friendly to your wallet too.
---
Our wireless internet is free and easily accessible, so you can bring your phone or your laptop in order to use it.
In-cottage cleaning staff always ensures sheets are clean and fresh. The staff also provides cleaning services for all rooms on a daily basis.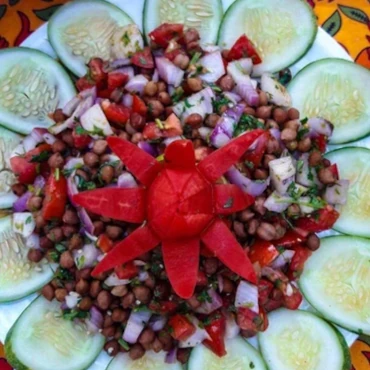 We serve delicious vegetarian food. We also serve gluten free and vegan food and cater to other dietary requests. Our nutritious food is prepared in a attentive manner to ensure you get the most benefits from it. Fresh ingredients, organic vegetables and fruit are used wherever possible.