---
The main purpose of yoga is to bring a balanced flow of energy to the body, thereby calming and balancing the mind. The methods to achieve this include physical practice (asana), breath control and expansion (pranayama) and concentration/ mindfulness (meditation). We will be sharing with you some of these methods during your stay at Anand Yoga Village, in the hope you are able to develop a personal practice to take home with you.  
Nestled in a small and quiet coconut tree grove at Anand Yoga Village and just one minute walk from the sand of Palolem Beach is our generously sized yoga shala where you'll practice yoga. 
 
With a schedule offering up to four classes and workshops a day, including asana, meditation, pranayama, chanting, yoga theory, asana masterclasses and much more, you can choose your own holistic practice and routine at Anand Yoga Village, with the aim to promote your balanced well-being. While we encourage you to participate in and get as much out of your time with us as possible, you also have the freedom to explore the surrounding areas, or rest and restore on the beach. 
Classes are led by our nurturing and lighthearted yoga teachers, whom each have their individual teachings and experiences to bring to you, so you have a variety of styles and disciplines to choose from. 
At Anand, our aim is to be inclusive, so no matter your experience, ability, age or anything else, we welcome you to practice with us. Our teachers will find a way to accommodate, adapt and modify for your needs. We truly believe yoga to be a system of techniques and guidance for enriched living, one that everyone can benefit from! 
A typical day offers a variety of asana classes and times for you to choose from, including more dynamic practices as well as restorative/yin, gentle and beginners. We tailor to you, afternoon workshops, where we will delve a little more deeply into the many aspects yoga has to offer. Our classes include some asana, pranayama and meditation.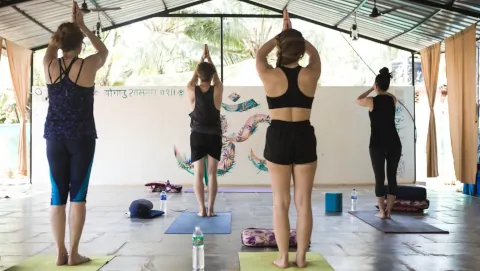 This course provides a solid base of knowledge and practice about Hatha yoga, Vinyasa yoga, Pranayama, Meditation, Philosophy, Anatomy, Yoga Therapy, Alignment, Yoga Psychology and also self-confidence to begin to teach yoga.
Reconnect with yourself, relax and discover the joy of yoga all while indulging in the gorgeous surroundings of Palolem Beach. You will be able to enjoy all the yoga you want while taking time for yourself to relax on the beach or enjoy local activities. Practice in our beautiful open-air yoga shala, eat fresh local food and enjoy our inviting air-conditioned rooms.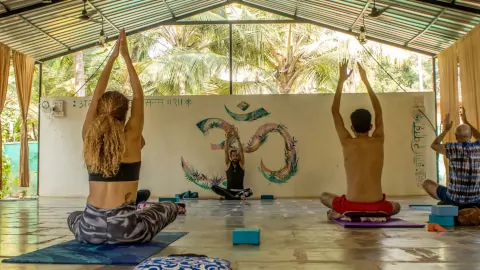 We offer a dynamic schedule of your favourite classes daily and everyone is welcome to join. Our dedicated and passionate teachers lead classes that vary from open-level Hatha and restorative Yin, to challenging Vinyasa and Ashtanga. The variety of classes are suitable for all levels.


Rishikesh Yoga Association is based in the world yoga capital – Rishikesh. In cooperation with Anand Yoga Village you can now receive these ancient teachings now in the tropical Paradies of South Goa. We offer certified yoga courses to all aspiring yogis. We are registered with Yoga Alliance USA. Rishikesh Yoga Association is proficient in imparting core knowledge of various yogic subjects such as Multistyle Yoga, Hatha yoga, Kundalini Yoga, Ashtanga yoga, and more. We bring together traditional yoga and modern teaching methodology to form the most beneficial package to become a yoga teacher. During the training, the students are taken on a spiritual journey of unison through asana (posture), pranayama(breath control) and dhyana (meditation).
 
Classes in Anand Yoga Village
---
Our daily yoga schedule includes a full range of classes that are suitable for participants of any age or ability. Beginners and seasoned yogis are welcome at Anand Yoga Village. We can't wait to be part of your yoga journey.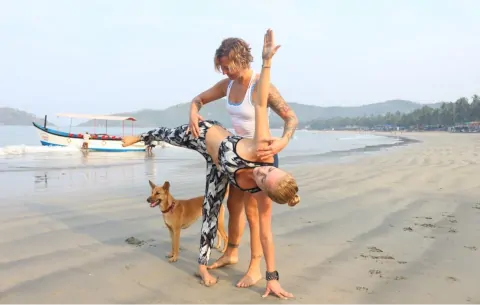 Yoga designed to strengthen the core muscles of the body. A strong practice focusing on strength rather than flexibility. Tightening and engaging core muscles and abdominal structures can improve respiratory function and stabilize the torso whilst teaching the muscles to work together efficiently and effectively. This class is a great supplement to any yoga practitioner. Feel like you've really earned your Savasana
A slowed down, more gentle class, designed to open and find space in the body, relax the mind and reduce stress.  This class synchronises movement with breath for an effective mind and body connection. Great for beginners and anyone wanting to take it a bit easier today
A traditional style of yoga using a wide range of poses (asanas) and breath practices (pranayama), each preparing the body for the next. This class will lead you through backbends, twists, forward bends, and seated poses before allowing you to connect once again with the breath and relax your body as you feel the benefits of the class.
A more dynamic, moving style of yoga where we link movement to the breath as we move through traditional yoga poses, but in a more flowing and energizing style
A fun inversion class for beginners to intermediate students. Build strength and mobility in the areas you need to work towards a handstand. It is good to be a little nervous, feel the fear and do it anyway
Come sit and just be in a safe space. We open up the shala for an hour, you can spend an hour or ten minutes, just sitting, it's up to you. We provide bolsters and pillows for your comfort. Please come and go quietly so as not to disturb your fellow meditators. 
The word vinyasa in Sanskrit means 'to place in a special way'. We take you through an intelligently designed sequence of poses that link with your breath, to allow a flowing energy to your practice. 
Dharma yoga is a heart opening and mind-expanding yoga practice, based on the teachings of the legendary teacher Sri Dharma Mittra. This practice is designed for those wishing to advance through progressively challenging asana practices. This practice is a mix of different Hatha and Vinyasa yoga styles, which are designed to stimulate all the energy centers of the body, unleashing the dormant forces within you. 
A class that combines traditional yoga asanas with strength work, for an all-over body strength and toning experience. 
Our power yoga classes are a dynamic style of yoga that blends Hatha yoga, Ashtanga yoga, and Vinyasa yoga. Power yoga focuses on equal parts strengths and flexibility while giving time to practice power poses such arm balances and inversions. With creative sequencing and strong connection to breath, practitioners find this a stimulating practice leaving them energized.  
Yin yoga is a 'passive' style of consists of a series of longer held poses, anywhere from 1-5 minutes. This practice does not work the muscles, but rather we relax into the poses, so we can work the fascia of the body, the connective soft tissue that surrounds or joints. Most of this practice is aimed at the lower body that is dense in connective tissue and will be practiced on the ground. A fantastic way to lengthen and strengthen the body, whilst balancing energy. This practice will leave you feeling nourished. 
Restorative yoga is a series of poses that include the use of props such as bolsters, blocks straps, and blankets to help the student explore deep relaxation, stillness, and inner peace. In these supported poses, the body and the mind are guided into relaxation to find stillness and calm conscious breath. Each student is given the space and encouragement to let go of tension and stress in the mind, body, and breath so they can relax deeply, be present and open their hearts. 
We take you on a guided journey to a state of consciousness between awake and asleep, where you may experience 'yogic sleep', or the bliss state, a place where you truly feel relaxed. 
---
Wouldn't it be amazing if every meal you ate infused you with a feeling of well-being? Well, that is our aim in every meal at Anand Yoga Village. We believe fresh is best, that yoga food should be simple, wholesome and nutritious. So we offer a variety of tasty and colourful food to revitalise the body, excite the taste buds and keep you feeling light and healthy.
Served at 9:00 am – after morning class
We offer fresh fruit and smoothies at breakfast, and you can expect to help yourself to fruit salad, oats, homemade granola, curd, wholemeal toast with honey, nuts, seeds and dried fruits and fresh, quality coffee and tea.
For lunch, our cooks will treat you to home-cooked wholesome meals such as rice-stuffed peppers or eggplant, guacamole, tofu cream cheese, buddha bowls, veggie burgers, Thai style noodles, a variety of salads, soups and so much more to keep you feeling satisfied. We serve vegetarian and vegan food only. There is no set menu, every week is different.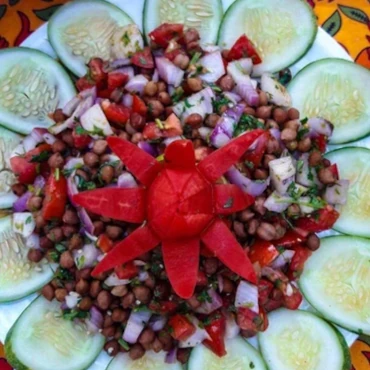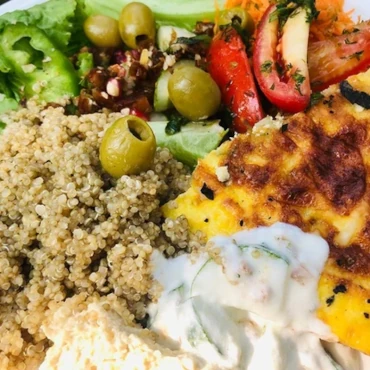 A daily menu of fresh and healthy food to enjoy, buffet style! 
Options for 3 daily yoga classes taught by passionate teachers – come to learn as a beginner, or deepen your practice as an experienced yogi.  
Comfortable accommodations sat just behind Palolem Beach to enjoy daily swims or dinner and nightlife by the sea.