Sayujya Yoga in association with Anand Yoga Village presents:
200 Hour Residential Yoga Teacher Training Course (YTTC)
YTTC by Sayujya Yoga (January – February)
---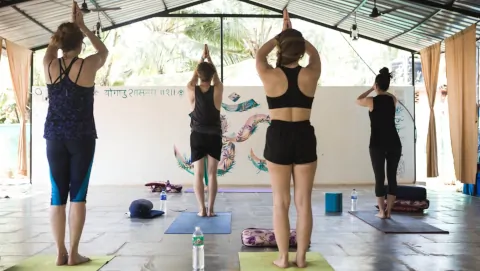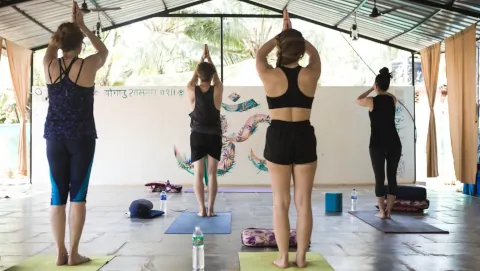 Our Yoga Teacher Training Courses (YTTC) are organised and given by Sayujya Yoga.
Sayujya Yoga is an Elevated Registered Yoga School as per Elevated RYS 200 Standards with Yoga Alliance offering 200 Hours TTC and Yoga Alliance Continuing Education Program for Yoga Teachers.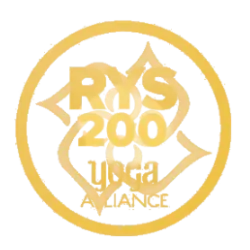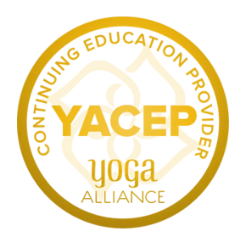 We seek to help students find health, harmony and balance in mind, body and spirit.
Sayujya Yoga is an amalgamation of traditional aspects with contemporary & scientific principles of yoga to help their students experience Yoga as a lifestyle in a holistic way.
Sayujya Yoga believes in Aligning the Body, Breath & Mind to unlock the higher dimension of Spirituality.
Why Sayujya Yoga TTC?
---
Teaching Based on principles of personal transformation
Subject Experts and not one person teaching all the subjects
3 Daily vegetarian meals
Beautiful surroundings of South Goa & P. Get completely immersed with nature.
Non-Compromise on core principles & philosophical foundations of Yoga
High Quality, Safe, Accessible & Equitable Yoga Teaching
Satsangs, Havans, Bhakti Yoga
In-depth Curriculum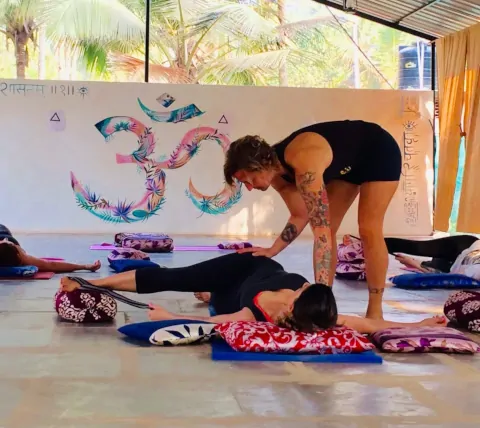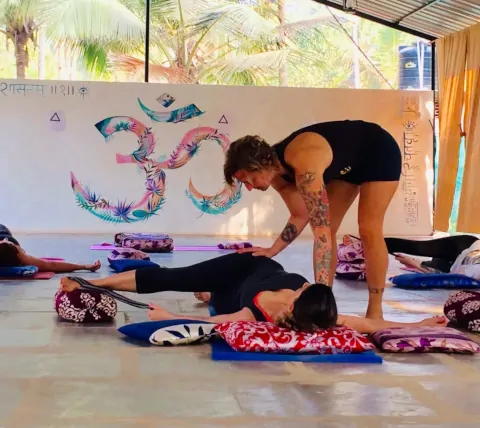 ---
Starting from January 2023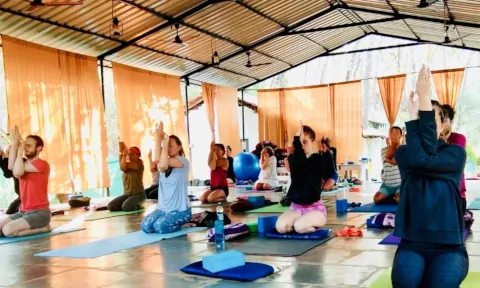 This teacher training is designed to deepen your own practice as much as it is about empowering you to confidently and positively impact your future students.
Early Bird Offer:  30 days before start date
200 hr YTTC Dates and Prices 2023
---
Dates
3rd January, 2023 to 30th January, 2023 (Sayujya Yoga)
31st January, 2023 to 27th February, 2023 (Sayujya Yoga)
7th March, 2023 to 3rd April, 2023 (Anand Yoga)
4th April, 2023 to 1st May,2023 (Anand Yoga)
Fees
| | | |
| --- | --- | --- |
| Type of Accommodation | Fees (in Euros) | Early Bird* |
| Dormitory | € 1500 | € 1200 |
| Triple Occupancy | € 2000 | € 1500 |
| Double Occupancy | € 2300 | € 2000 |
| Single Occupancy | € 2600 | € 2300 |
| Couple in Private Cabin | € 4500 | € 4000 |
*available for booking 30 days before starting date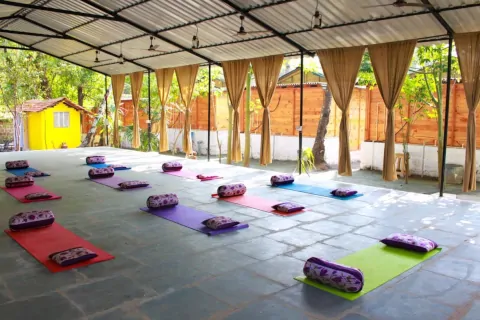 What is included in fees?
Teaching, Training Manual, 200 Hours Yoga Alliance Certificate
Accommodation as selected, 1 Coconut water per day, 3 Daily Ayurvedic Vegetarian Meals
Glass Bottled Water
Sight seeing
Free Wi-Fi
1 Ayurvedic Massage
Usage of Yoga props during the course
Yoga Mat, KRIYA KIT
Exclude:
Pick & drop, Visa exps, any other travel exps,
| | |
| --- | --- |
| Time | Class |
| 6 am to 7.30 am | Asana Practice |
| 7.30 am to 8.30 am | Pranayama Theory & Pranayama Practice |
| 8.30 am to 9.30 am | Breakfast |
| 11 am to 12.30 pm | Anatomy & Physiology |
| 12.30 pm to 4 pm | Lunch, Rest, Relax, Self Study |
| 4 pm to 5.15 pm | Yoga Philosophy |
| 5.15 pm to 7 pm | Alignment & Techniques |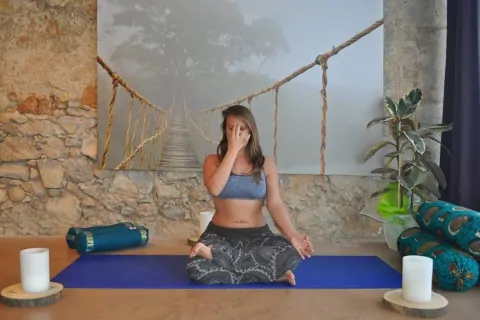 Expectations from students
---
Students should maintain proper discipline and decorum in the school environment.
No alcohol, meat or smoking allowed on the campus.
Students should abstain from the intake of intoxicants during the course.
An attendance of 85% Is mandatory for the successful completion of the Yoga Alliance certificate.
Any misbehaviour during the course in the campus or in classes will lead to a point of cancellation of your certificate even forceful abandonment from the campus.
In case of any emergency, if a student needs to leave the course halfway, his/her money will not be reimbursed, however, he/she can attend the same course, at the same location at a different time with the permission of the organisers.
A non-refundable fee of (25%) will be charged to book a seat for one time before the course.
The school does not provide health insurance any damage covering during the course.
A student will be responsible for his or her own wellbeing and must communicate his/her special needs and follow teachers' advice to avoid injuries.
The time table will be provided during the orientation and must be adhered to by all and sundry.
Course outline (Theory)
---
Etymology of Yoga
Origin & Development
Principles of Yoga
Aims & Objectives of Yoga
Misconceptions about Yoga
2. Multifold Paths of Yoga
Japa Yoga
Mantra Yoga
Bhakti Yoga
Karma Yoga
Jnana Yoga
Nada Yoga
Raja Yoga (Ashtanga Yoga of Sage Patanjali)
Hatha Yoga
3. Systems of Indian Philosophy
Patanjala Yoga Darshana
Hatha Yoga Texts
Bhagavad Gita
5. Important Yogic Concepts
Triguna Theory
Pancha Kosha
Panchamahabhuta
Definition of yoga
Vrittis
Yamas & Niyamas
Asana
Pranayama
Pratyahara
Dharana
Dhyana
Samadhi
Kleshas
Obstacles in Sadhana
Prana
Apana
Samana
Udana
Vyana
Bija mantras and chakras,
Elements, Colours & Chakras
Role of a Teacher
Themeing the class
Classroom organisation
Content and levels of Instruction
Demonstration
Language & Tone
Course outline (Practical)
--- Traditional Surya Namaskar
Surya Namaskar A & B
Satyananda Style Suryanamaskar
Pawanmuktasana Series 1,2,3
Relaxing Asanas
Meditative Asanas
Standing Asanas
Forward Bending Asanas
Back Extensions
Twisting Asanas
Inverted Asanas
Arm Loading Asanas
Asana Flow
Breathe Body Co-ordination
Individualized Asana Alignment Sectional Breathing
Yogic Breathing
Surya Abhyas
Chandra Abhyas
Surya Bhedan
Chandra Bhedan
Anulom Vilom
Ujjayi
Sheetkari
Shitali
Bhastrika
Bhramari Cultural Mudras
Hand Mudras
Facial Mudras
Tribandha Kapalbhati
Jal Neti
Sutra Neti
Vaman Dhauti
Trataka Yoga Nidra
Kriya Yoga
Morning Mantras
Deha Dharana
Prana Dharana
Aum Dhyana
Cyclic Meditation & more
Course outline (Anatomy & Physiology)
---
What is Anatomy
What is Physiology
Skeletal System
Muscular System
Digestive System
Respiratory System
Circulatory System
Nervous System
Endocrine System
Excretory System
Physiological Effects of various Yogic Practices
Concept of Compression & Muscle Tension in Asanas
Concept of Proportion & Joint Orientation in Asanas
Four types of Postures
Individualized Alignment based on Structural Variations
Kinetic Chain
Planes of Movement
Major Muscles used in Asanas
Prop work in Asanas
Injury Prevention in Asanas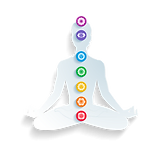 Chakras
Nadis
Pancha Prana
Upa Prana
Pancha Kosha
Course outline (Others)
--- Opening & Closing Prayers
Yogic Discipline & Lifestyle
Practice to Sadhana
Teachers
---
Co Founder – Expert in Asanas, Props, Alignment, Pranayama, Ashtanga Vinyasa & Functional Anatomy
Hardik Mehta is an E-RYT® 200, RYT 500, YACEP® yoga teacher offering advanced training in Yoga and specializes in Corrective movements in Yogasanas. He has also done his Master's in Yogashastra and 300 Hrs TTC in Ashtanga Vinyasa from Mysore.
He is the Co-Founder of Sayujya Yoga along with his wife Prutha Bhatt. They both have trained more than 250 students.
His teachings are based on making Yoga poses accessible for everyone. He is a certified Posture, Prop, and Alignment Specialist.
His teachings are not based on universal Alignment principles, as he believes universal alignment is not applicable to everyone and proposes individualized alignment in his workshops and sessions after the assessment of students.
He specializes in making Ashtanga Vinyasa practice Accessible and teaches Mysore style Ashtanga Vinyasa.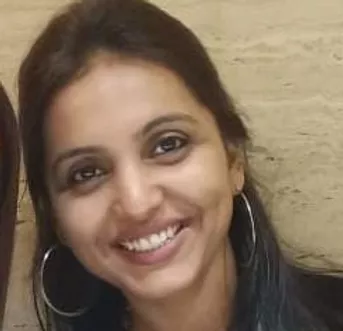 Co Founder – Expert in Yoga Philosophy, Mediation, Anatomy & Physiology
Prutha is a visiting faculty at Somaiya Vidyavihar University. She is currently pursuing her Ph.D.in Yoga from Somaiya Vidyavihar University, Mumbai. She is Qualified for the post of Assistant Professor (Yoga) by clearing the NET Exam conducted by University Grants Commission, India.
She has completed her M.A. in Yogashastra, Diploma in Yoga Education, and a Certification course in Patanjali Yoga Darshan, Sankhya Darshan, Bhagwat Geeta.
Prior to finding her true calling in Yoga, she was working as a visiting faculty in prominent Fashion Designing institutes in Mumbai.
She is also a certified Yoga Posture, Props, and Alignment Specialist.
---
" Nothing is more amazing than being trained by such spectacular teachers like Hardik Mehta."

Kashish Makhijani
" I have attended 12 sessions of Yoga by Prutha & Hardik. I absolutely Loved it. The sessions are well prepared and gradually increased by its intensity. You learn a lot about alignment & postures. How to perform all different asanas without hurting yourself. Hardik & prutha focus on each and every student. you will fell as if you are attending the live classes."

Fabienne Bomio
" What a challenging flow we did today!!

You make us stretch our limits and it is always thrilling to attend your sessions. Felt super good after completing it. Thank you Hardik & Prutha for coming up with such interesting sessions.."

Meha Parekh